Voices from Aleppo
Islam Mardini published a series of recent photographs shot from regime-controlled areas near the frontline.
Mr. Mardini, an Aleppo native, won a "Spirit of Humanity" award in 2015 for his photography.
"Aleppo is known for two main things: the food and the music," Ghuydar Bashmaf
Ghuydar Bashmaf is a well-known, U.S.-based nasheed singer who recently performed a public recitation of the Qur'an at Muhammad Ali's funeral. Islamic Relief USA featured his memories of food and music during Ramadan in Aleppo on Day 14 of its 30 faces of Ramadan series.
Food
"Every family would send a child before maghrib time to the neighborhood shop to get fresh falafel, hummus, and atayef. The most important thing is the atayef," he said, remembering this special Ramadan pancake stuffed with ricotta cheese or walnuts and fried. "The rich people fill them with pistachios," he added. Another popular Halabi dessert is mshabek, a fried dough formed into interesting circular shapes and soaked in sweet syrup.
Music
"The music is special in Ramadan," he said. "They dedicate a certain portion of every night to singing the qaseedahs, long structured poems praising God."
During Ramadan, the Syriac Orthodox church is offering meals to poor families in Sulaimaniyah.
It is "a simple gesture aimed at expressing solidarity between people of different religious backgrounds with the hope that it will, in time, help to restore the peaceful coexistence that existed among Syria's various religious and ethnic communities before the war." The Archdiocese of Aleppo.
When Zaina Erhaim returned to Aleppo after working for the BBC in London, she began to run training sessions for women who wanted to become journalists. In this Frontline Insight video, Ms. Erhaim describes the enormous obstacles faced by women and how they work to overcome them.
Aleppo's Heritage
Panoramic image-based modeling for the Umayyad Mosque of Aleppo.
The Conflict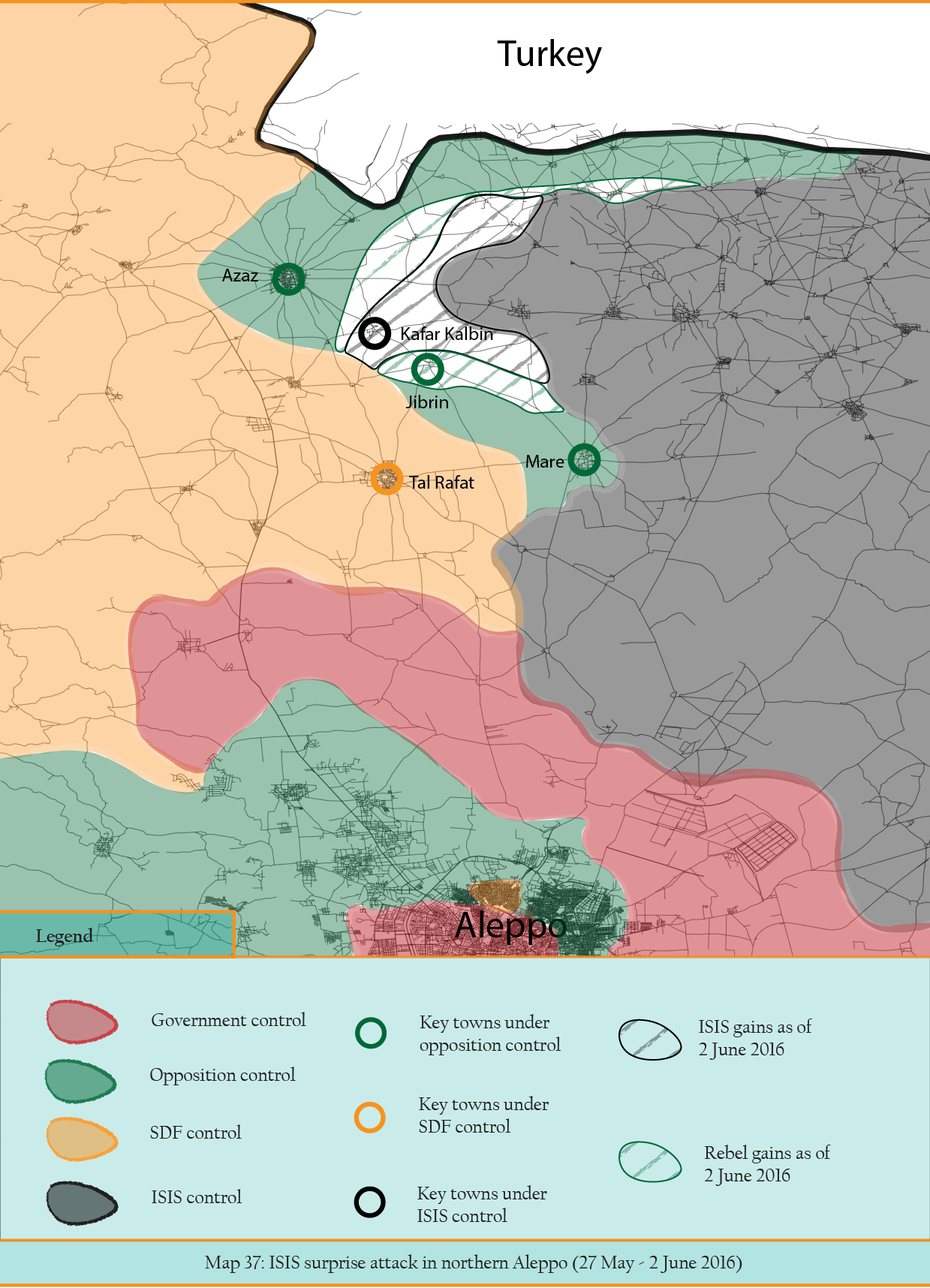 Click here for the latest Aleppo Conflict Timeline updates, maps and charts.
The children's hospital in eastern Aleppo reopened after being hit by an airstrike earlier this month.
Human Rights Watch called on the United States and Russia to investigate recent attacks in Aleppo.
"As fighting escalates again in Aleppo, the US and Russia should keep their commitment to investigate, to maintain their credibility." Nadim Houry, Deputy Middle East Director
In mid-June, civilians in ISIS-controlled Manbij fled what appears to be an imminent PYD-affiliated Syrian Democratic Force attack on the town. Activists said that decreasing stocks of food and diesel combined with an International Coalition airstrike on a wheat storage facility raised fears that bakeries would cease to operate.
Activists report that Turkish border guards have killed several Syrian civilians attempting to cross the border to safety.