The Aleppo Weekly compiles what CCNR staff found to be the week's most compelling stories, images, videos, and other resources that provide information about the life in the Syrian city, analyze the conflict that is destroying it, and help residents plan for their future. The weekly follows topics of interest to the Center's researchers, and has a special focus on those displaced from the city and others whose voices are rarely heard when it comes to peacemaking or reconstruction.
STORIES OF THE WEEK
Inside Aleppo's fight for water and electricity
. One local government in rebel-held Aleppo is trying – and struggling – to provide its people with basic services.
Activists in rebel-held Bustan al-Qasr district support the decision of the High Negotiations Committee not to attend Geneva III negotiations until the Syrian government agrees to lift sieges on opposition-held areas, stop shelling civilians and release prisoners.
The Aleppo Media Center launched a new Facebook page after allegedly being forced to close four times in six months by the Syrian Electronic Army.
Local media report that a shabiha (government-affiliated militia) member shot the Razi State Hospital director in the leg after he tried to expel militia members from the hospital.
Fighting and shelling of civilians and infrastructure continued in the city and Aleppo province and dozens died and were injured in barrel bomb, cluster munition, and other attacks. Civil defense units also removed unexploded ordnance from several locations. Most civilian deaths and damage were caused by Russian, government and government-affiliated attacks. Affected areas included Aleppo's Old City, al-Ashrafiyeh, Kafar Hamra, Karm Homad, as-Sabeel, Salaheddin, Sheikh Saeed, Tishreen Street districts as well as the towns of Ahres, al-Amiriyyeh, Anadan, Ansari, Azaz, al-Bab, Bab al-Nairab, Bani Zaid,  Breij, Buaideen, Byanoun, Hamra, Hayyan, Hayy al-Tarrab, Hretan, al-Jandoul, Jazmati, Karm al-Nuzha, Maadi, Marea, al-Myassar, Mogambo, Muhafaza, Qabbaseen, al-Qattaneh, as-Salheen, Tal Jebbin, Tal Rifaat and Zebdiyeh.
Local media report that ISIS beheaded two brothers near Manbej for "dealing with the Free Syrian Army."
As government forces approach the ISIS-controlled town of al-Bab, residents attempt to flee against ISIS orders. On January 25, activists told Halab Today TV that 2000 people escaping al-Bab and other areas under attack in the eastern Aleppo countryside were stuck at the Turkish border.
IMAGES OF THE WEEK
In parts of western Aleppo, municipal water has been cut off for two months.
VIDEOS OF THE WEEK
For the first time since the start of Syria's conflict nearly five years ago, government forces allow a team of Western journalists to film inside the Old City, much of which has been reduced to ruins.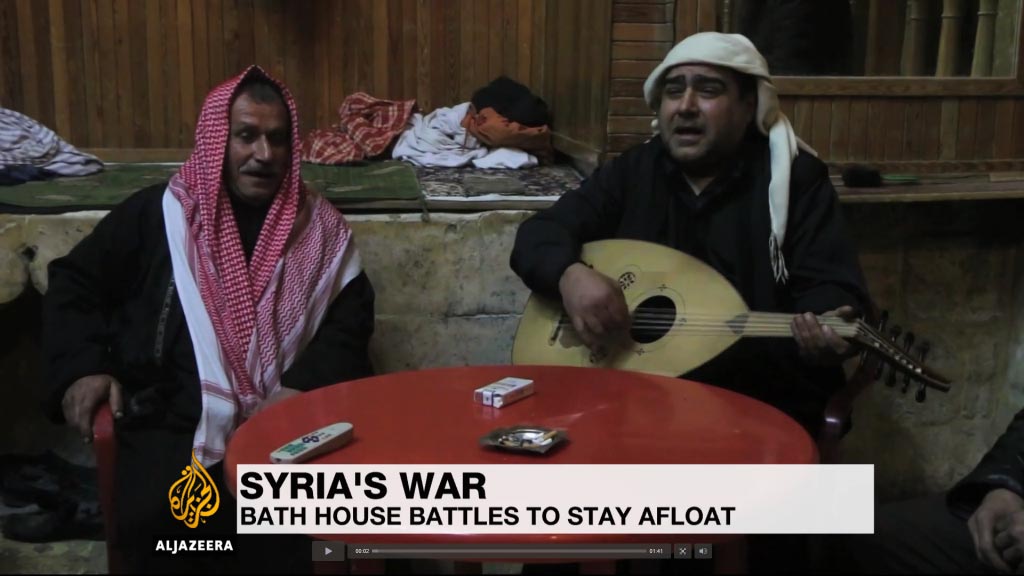 The revival of Aleppo's public bath house